WORLD RECORD $6.2 MILLION BLUE MARLIN CAUGHT BY MONTGOMERY COUNTY RESIDENT!
Image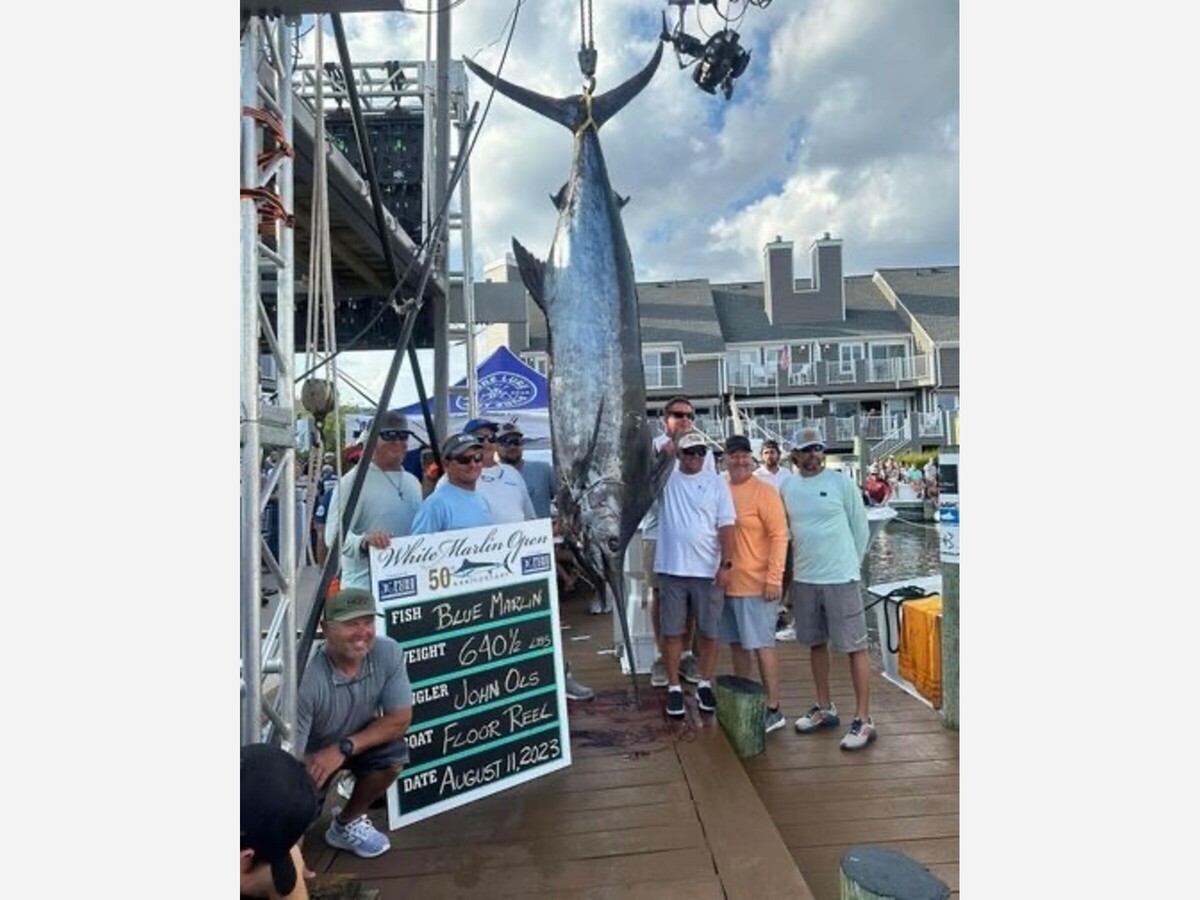 (Story and image sourced from MoCoshow.com or click here for source) 
Montgomery County resident John Ols (Laytonsville) has caught a 640.5 on blue marlin, earning him a world record of $6.2 million at this year's White Marlin Open in Ocean City, MD.
Per the White Marlin Open: On the last day of the 50th Annual White Marlin Open, the Floor Real out of Ocean City, MD weighed a 640.5-pound blue marlin to take $6,200,000 of the $10.5 million dollar total purse. The blue was caught by John Ols from Laytonsville, MD
While there were unofficially 551 white marlin and 46 blue marlin caught, only 3 billfish were brought in and only two were weighed. The Skirt Chaser out of Manteo, NC just missed with a 67.5-pound white marlin, and the No Limit out of Indian River, DE brought in a blue marlin that missed our 114" minimum length by two inches, so it was not weighed.
The blue marlin from the Floor Real left no doubt when it was measured at 118" in the boat before electrifying the crowd while tipping the scales at 640.5 pounds. It proved to be the only qualifying billfish and wins most of the money for both white and blue marlin. The $6.2 million won sets a new world record for the catch of a fish, breaking the previous world record of $4.45 million won in last year's Open by Jeremy Duffie for his 77.5-pound white marlin.
Two new millionaires were minted in the tuna categories. Ro Sham Bo out of Ocean City, MD weighed a 215 bigeye tuna caught by Rusty Shriver of Leonardtown, MD. The fish won all $1,700,000 in the $50K winner take all level because no white marlin or blue marlin were caught in that division and all prize money was diverted to the top tuna.
Reel Tight out of Ocean City, MD won a million for their 265-pound bigeye and the caught by Brian Stewart from Shady Side, MD took $1,000,000 for their efforts.
All figures are unofficial as of tonight, but a full list of winners will be included in our final summary for the 50th-anniversary event this weekend.